Recently, we have had the chance to help a large pharmaceutical and OTC e-commerce with the positioning of their online shop achieving:
– Milestone 1: Position 428 new products with 75,813 clicks in six months.
– Milestone 2: Increase organic traffic from 2,077,619 to 2,775,255 users – 33.58% growth.
– Milestone 3: Increase SEO channel transactions by 59.58%.
Although it's getting harder and harder to break into Google's top 3 results, we're very proud of what we've achieved for this client in terms of organic traffic acquisition.
Surely you want to know the details that have marked this success story.
But first, let us draw in your head the context in which we find ourselves:
E-Commerce Pharmaceutical seeks SEO Agency
The OTC industry is one of the most competitive in the online world.
Established big players, long-established manufacturers and distributors are fighting relentlessly for a slice of the digital pie.
These online pharmacies invest a lot of resources in search engine optimization.
However, at iSocialWeb, this is the context where we feel completely at home.
And the fact is that:
Despite the enormous challenge of working for a pharmaceutical e-commerce, these are the results of the last 12 months


60% increase in transactions and 20% increase in conversions from the organic traffic channel, according to Google Analytics.
As we like to say: "It's not magic, it's SEO".
f you want to know what's behind these results, we invite you to read on:
Taking a seat at the Table of the Big e-commerce online pharmacies
Before we took over the online pharmacy's SEO strategy they made two points very clear to us:
Their main competitors were hurting them in the most profitable product categories. 

The project had problems with

duplicate content,

web architecture and domain authority, which prevented them from standing out from the rest.
It didn't look like a promising start…
However, we are used to working in demanding environments.
So, we got down to work starting with an SEO audit of the domain to get to the bottom of the issue.
The SEO audit of the project confirmed what the client mentioned:
Existence of a high percentage of duplicate and similar content.

Poor internal linking, which is detrimental to PageRank distribution.

Domain authority inferior to that of its competitors:
Besides, several other problems as well:
Cannibalization between product URLs and categories.

Missing, duplicated or unoptimised meta descriptions and meta titles

Header hierarchies not established

Rich data not implemented 

Company entity not created

No EAT strategy in a YMYL project

Lousy WPO aggravated by the new Core Web Vitals update.
All of this was a dead weight that dragged down the client's website positioning to a great extent.
The Challenge: Ditching Legacy
So far,  the usual for this type of project.
In fact:
Any SEO Consultant would have come up with a roadmap addressing the domain issues with a standard vision:
Step #1 – Optimize the project's Onpage SEO

Step #2 – Correct keyword cannibalisation

Step #3 – Improve internal linking

Step #4 – Curate content and search intent

Step #5 – Build authority with backlinks

Step #6 – Open up new verticals

Step #7 – Target long tail keywords 
And then, wait to climb the SERPs for the most competitive terms.
Well, here's the fun part.
Our client informs us that due to internal workloads, the development team had very limited resources that can be dedicated to SEO and that most implementations would have to wait.
And therefore, we have to provide solutions beyond the usual working under the same technological environment.
In short:
We found ourselves with a client who was going for it, but who did not have all the development resources available at the start of the project.
Of course, this type of conditions were far from ideal to get to work. 
But that's how it was and we took it as a personal challenge at the agency.
The Solution: The SAIL Technique or Scalable Automated Internal Linking procedure
Given the limitations of our client's development team, we felt like we were playing a basketball game with one hand tied to our foot.
The usual day-to-day practice of our SEO Agency, iSocialWeb, is to propose solutions and always be one step ahead of the client's needs.
But on this occasion, the client's speed of progress and ours was totally out of tune.
And it really compromised the results of the project in both the short and long term.
However, the way out came by adopting a compromise solution.
Key #1: Prioritize Business Impact SEO Tasks
For these reasons we decided to focus on:
1- Improving the global authority of the domain
2- Increasing the CTR of the top business tier URLs and the terminology to be positioned.
3- Attracting qualified traffic through a strategy of external links to the site.
4- Impact on sales through automated internal linking.
In other words, renounce anything that in the short term would not have a direct impact on the business' profit and loss account.
This is how we communicated it to the client… and they gave us the green light.
But… the question was to know if this would be enough to drive the project and, of course, to know where to start.
Key 2: Go for Automated SEO
Thanks to the iSocialWeb SEO Manager in charge of the project, we gave a solvent answer to this dilemma.
The idea was very simple and hardly involved any development resources on the part of the client, but if done well, it would solve the problems of internal linking and PageRank transfer in one fell swoop.
In other words:
The client would assume minimal risk (low costs and short implementation times) but the associated potential gains were maximum.
And fortunately, we were not wrong:
We are clearly talking about the SAIL technique.
Within two months we achieved what we call the iSocialweb "Boom Effect", which sooner or later takes place in all our projects.
But never before in less than 60 days.


But... What is the SAIL technique that we talked about?
You are probably asking yourself this question:
SAILor scalable automated internal linking consists of creating links in a non-manual way that connect the different pages of your website under semantic criteria to transfer well the authority of the domain throughout your site and improve at the same time the user experience.
In this case, a small amount of programming was enough to associate the most popular categories to each of their peers.
Concentrating 85% of the domain's pages just 3 clicks away from the Home page. 
Example of SAIL Linking:

This, together with a correct content curation of the most important URLs of the project and the correction of some cannibalization, had a "boom effect" in just 2 months.
In short:
Thanks to this initiative we were left with our hands free to:
Tackle CTR optimisation on the top pages of the project
Launch a full EAT strategy working on key employee entities
Create the company entity (branding)
Increase domain authority (LB – Brand Authority and then specific landings)
Capture highly qualified referral traffic to improve conversions.
Reduce similarity issues and duplicate content.
This shift in strategy has resulted in:
Results obtained:
What has working with iSocialWeb meant for this pharmaceutical e-commerce company?
In addition to the milestones already mentioned:
428 new product placements with 75,813 clicks in six months

2,775,255 organic users compared to 2,077,619 – up 33.58%. 

59.6% more transactions and 31% more revenue in the organic traffic channel.
Adopting this strategy has meant that in 1 year we have achieved:
1- Positioning for 11,333 new words which has meant 40,095 visits/month gained.
Obtaining the first position for keywords as competitive as:
2- Improve ranking for 8,447 keywords gaining 23,645 visits per month.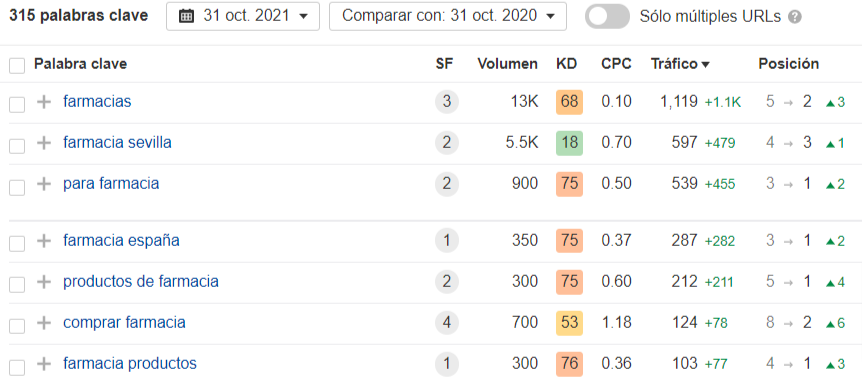 3- Keeping the position for 862 words, gaining 3,356 visits per month. Most of them are for growth in terms of branding, as we can see in the image.

In net terms, the project has generated an additional 40,500 visits per month (Ahrefs data) from much more attractive keywords for the business. 
This has enabled a considerable saving of resources in paid traffic and ads.
Bottom line:
The SEO industry is undergoing a mini-revolution.
There are new automated SEO techniques that are making part of the current trend.
The "SAIL" technique or "Scalable and Automated interlinking" (scalable internal linking) is one of them.
And the fact is:
Increasingly, automations that help to execute tasks, shorten times and reduce costs are necessary. 
Otherwise, bottlenecks are inevitable.
Part of the value we bring in an SEO Agency like iSocialweb is to avoid these blockages. 
In short:
The road traveled proves it and in this sense it is exciting news, although there is still a lot to do.
The dynamics of the business and the day to day, mark a hard reality that requires us to be very on top of it, but at the same time it is exciting.
There is still a lot to be address and resolved:
Content cannibalisation

Solving similarity and duplicate content problems

Optimise goals and titles

Finalise the correct implementation of heading hierarchies

Drive growth in new verticals

Create semi-transactional content to support sales
At a technical level, solving all these points is simple, but things change when development resources are limited and, above all, you have to handle a project with thousands of URLs.
If you are in a similar situation to our client and you want to know how we can help you, you can find us on this digits:+34 931 005432
Or if you prefer, email us here.
One of our SEO consultants will contact you to evaluate your project for free.
Links and further reading
Are you in a similar situation that our client and you want to know how we can help you?
We are SEO specialists and have a lot of experience in online pharmacies.
Agency specialized in digital marketing engineering. Traffic acquisition, analysis and optimization of results.