In today's world, a good presentation has become a key tool for communicating ideas, conveying your vision or persuading your audience. However, crafting an effective presentation can be a time-consuming and effort-consuming task.
To try to tackle this problem, we can turn to artificial intelligence, which has already proven to be very effective, optimizing both costs and time in tasks such as content writing and image generation.
Using AI to create presentations not only speeds up the process, but also ensures attractive and logically structured visual content. We can even generate presentations on topics we are not familiar with.
In the upcoming post, we'll introduce various tools for creating presentations, encompassing both free and paid options, and provide comprehensive step-by-step tutorials.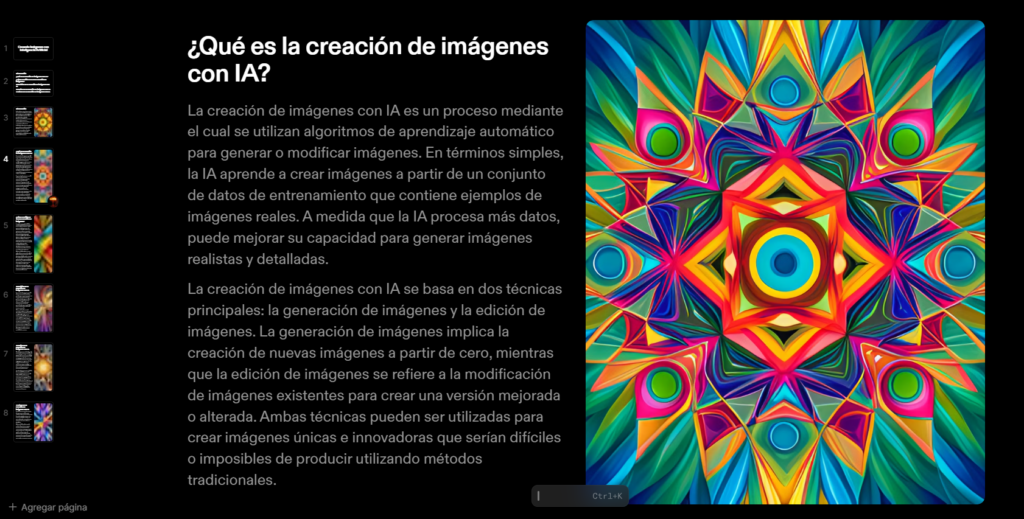 The 7 best tools for creating AI presentations
In this concise compilation, we have gathered what we consider to be the top choices currently available for harnessing artificial intelligence in presentation generation:
Canva:

known for its versatility, has incorporated artificial intelligence for creating presentations. We will delve deeper into how to utilize this feature in the following explanation.
SlidesAI

: It's integrated into Google Slides and operates with a slightly higher level of complexity compared to the other options. However, it offers the flexibility to create presentations beyond predefined themes, enabling us to incorporate our own text. Additionally, it grants the ability to generate three projects at no cost.
Wepik

: is the Freepik team's alternative to generate presentations with artificial intelligence and for free. A little further on we will take a look at its options.
SlidesGo:

While it offers a more limited feature set compared to its competitors, it stands out by allowing us to generate PowerPoint presentations at no cost. We specify the theme, style, and tone, and it handles the creation process. Subsequently, we have the freedom to edit it to our liking.
Tome:

Considered one of the most comprehensive options in terms of features, both with and without AI. After selecting a theme, it prompts us for the initial style and generates a script that we can customize. Once we confirm the structure, it generates the slides. Initially, it provides 500 credits for trial use, enough for creating 4 or 5 presentations. The results include well-crafted text and personalized images created with AI assistance.
BeautifulAI:

This platform offers extensive customization options thanks to AI, enabling the creation of slides. It integrates with various tools like Slack and Google Drive and allows for the generation of animations and audio elements for presentations. It offers multiple payment plans to suit different needs.
Decktopus:

This tool features an intuitive interface that guides users through the presentation creation process. You only need to specify an initial theme, and it provides options for duration, target audience, and tone. Decktopus offers various payment plans to accommodate different preferences.
Step-by-step guide to generating free AI presentations
To generate a presentation on a specific topic for free, we will use Wepik.
Step 1: Open your account and press generate presentation
All we have to do to get started is click on the "Start" button on their homepage. A window will appear, allowing us to select our presentation's theme, desired tone, language, length, and base style. Once we've provided these specifications, we can click "Generate presentation," and artificial intelligence will begin crafting an initial draft of our slides on our behalf.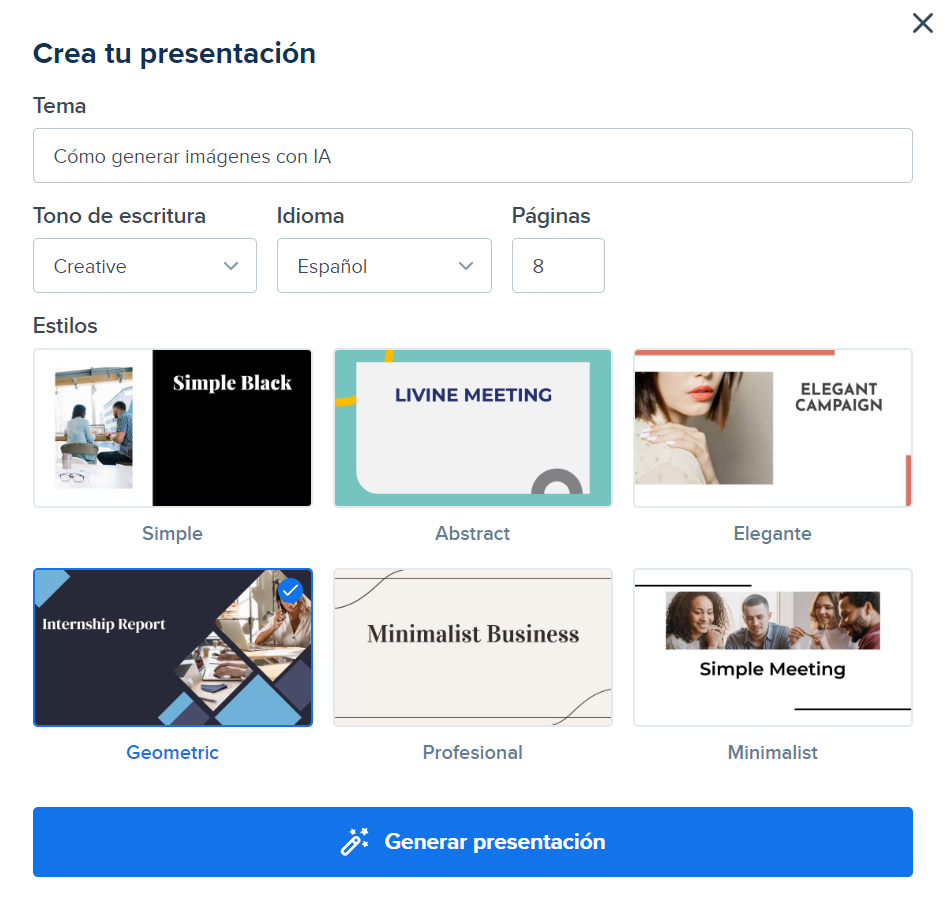 Step 2: Give your human touch
This draft will be open in the Wepik editor, giving us the opportunity to apply our personal touch by making corrections, modifications, or additions as we see fit.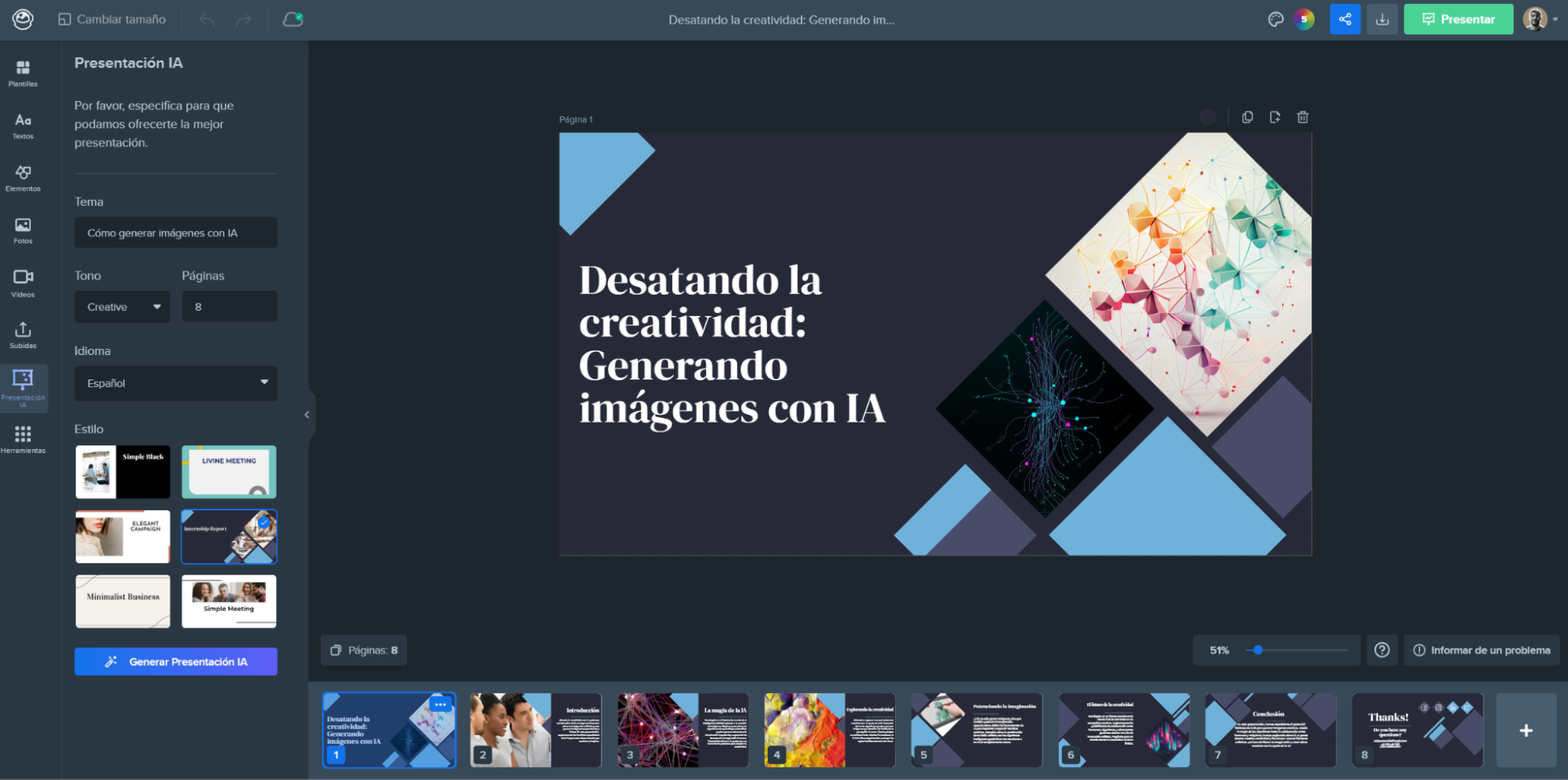 Create AI presentations from documents with Canva
So far we have seen how to create a presentation based on a specific topic, but sometimes we will be interested in generating it from a document that we have already written. To do this, we can use Canva.
Step 1: Open Canva Docs
The first thing to do is to go to their website, go to Canva Docs and click on the option "From Docs to Slides".

Step 2: Add the text to the document
This will take us to the next screen where we can paste and edit our document. There is a character limitation, but it is quite generous, so you should not encounter any problems in this regard.
Step 3: Choose a design template and press the convert button.
Once we've inserted the text and images, we have the option to select our preferred design, and then simply click the "convert" button situated at the upper right corner. The AI will initiate and provide a presentation containing our text, which we can then edit within the Canva platform.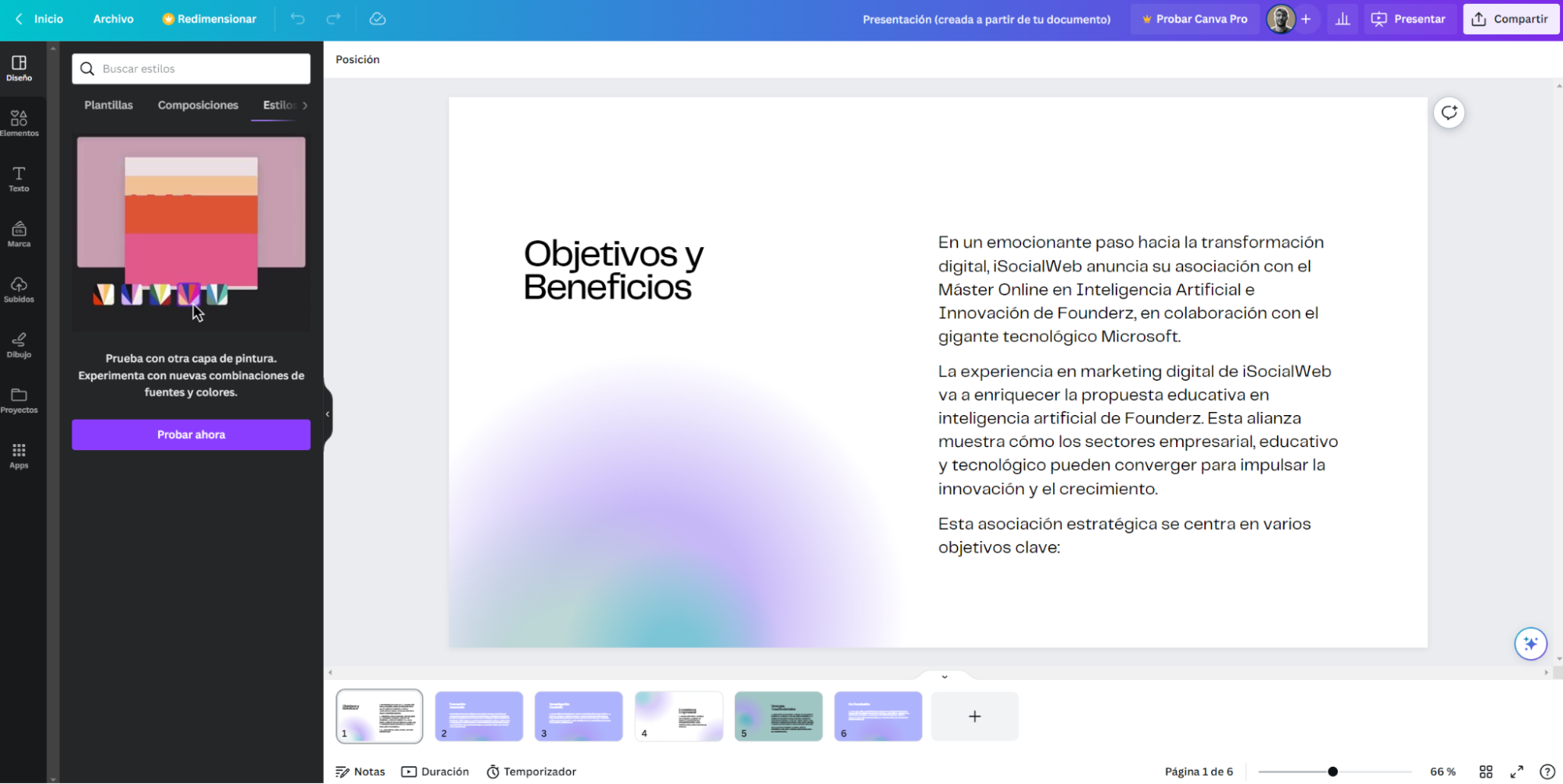 Video presentations with Artificial Intelligence
As an alternative to classic slides, we would like to propose an alternative: video presentations with virtual avatars.
Although it is still at an early stage of development, it is already possible to generate this type of video on different platforms such as Synthesia, choosing both our virtual presenter and his or her digital voice.
The future of creating presentations with AI
The options we've discussed in this article are the ones we currently find most valuable. 
However, it's important to note that artificial intelligence is advancing rapidly, and it's clear that further developments and new platforms will emerge.
In this context, Google's Duet assistant and Microsoft's Copilot and Designer are making significant strides. Soon, we'll have the capability to employ these tools to automatically generate our presentations within PowerPoint or Slides.
Artificial intelligence enables us to expedite numerous routine tasks within our company, and the potential to create presentations more efficiently can greatly enhance our operations.
With various options available in the market, our choice depends on our specific demands and the degree of customization we seek. What remains evident is that harnessing AI is an outstanding solution when it comes to saving time in presentation development.
We know how to put AI to work to increase organic traffic, RETAIN your customers and get consistent SEO, PPC and CRO returns.
AVOID wasting your time and resources by letting us help your website rank among the top performers in your industry.
Agency specialized in digital marketing engineering. Traffic acquisition, analysis and optimization of results.