This guide features a selection of AI tools designed to boost productivity, revolutionizing various aspects of work that we've been wishing for months. From content creation to meeting organization, we'll demonstrate how these tools can significantly simplify your work life.
There's an abundance of AI productivity tools available, each capable of efficiently tackling a range of tasks. 
However, choosing the right ones can be quite challenging, especially if you haven't had prior experience with them. 
We understand this struggle well, having faced it ourselves while curating our AI newsletter.
This compelled us to ask ourselves whether each app truly deserves a place in our weekly selection and whether it can truly enhance productivity. Consequently, after months of rigorous testing and experimentation, we're now ready to share our insights on the most effective tools.
Are you eager to discover the top productivity tools utilizing artificial intelligence? 
Grab a pen and paper or bookmark this page, because it's time to boost efficiency and save valuable time.
Best AI productivity Tools to improve your work
If you don't have time to read the whole article, keep this list close:
Now let's take an in-depth look at each of these artificial intelligence applications and what you can get out of them:
AI productivity tools for content creation
These AI apps represent a sample of how artificial intelligence is being used to ease, enhance and optimize the content marketing in various areas. In this sense, this is one of the most prolific fields, which is why we have found it very difficult to reduce the list just to 4 alternatives:

Jasper is an AI-powered writing assistant tool that helps users in creating high-quality written content. It deploys advanced natural language processing technologies to offer real-time suggestions and edits, helping users enhance their writing as they work. One of its significant advantages over similar tools is its internet connectivity, enabling it to generate fact-based content.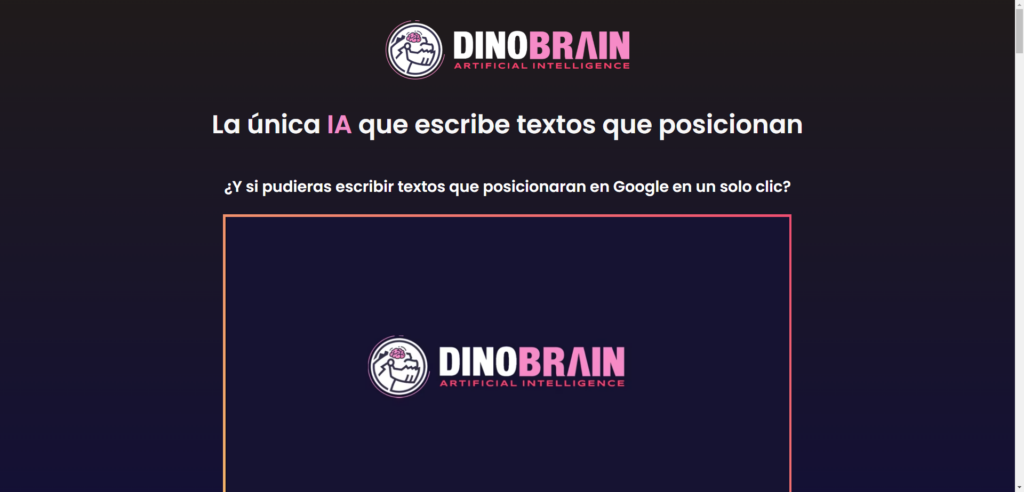 DinoBrain, Spanish develop, is a specialized tool for optimizing content for SEO. It streamlines the process of creating optimized content, allowing users to generate multiple original and SEO-optimized articles with just one click. Additionally, it assists in identifying the correct keywords to enhance visibility on search engines.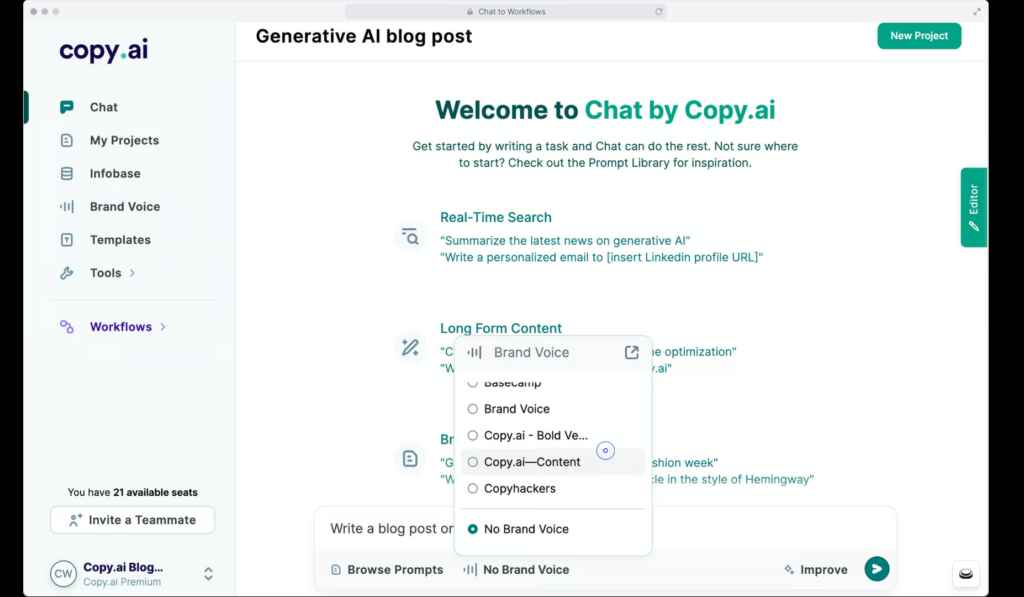 CopyAI es una plataforma que proporciona herramientas de redacción impulsadas por IA, ayudando a los usuarios a generar copias de marketing de alta calidad. Ofrece varias herramientas, incluyendo generadores de correos electrónicos de marketing y reescritura de párrafos, que permiten a los usuarios crear múltiples versiones de contenido en minutos.
Writesonic is a versatile platform that offers a range of AI-powered content creation tools. Beyond copywriting, it provides tools for article rewriting and offers products for engagement and chatbot creation. Its primary aim is to assist professionals in scaling up content production while upholding quality.
Artificial Intelligence Chatbots: ChatGPT, Bing chat, Bard and Claude AI
Chatbots are the standout feature of the current AI wave, and for several compelling reasons. They are among the most versatile and user-friendly tools, making them the logical starting point if you aim to enhance productivity and haven't yet incorporated artificial intelligence into your processes.
You probably don't need an introduction, as it's the most renowned chatbot and one of the catalysts behind the current AI boom. Created by OpenAI, it's incredibly user-friendly with a wide range of capabilities. It offers various models, and depending on your choice, there are both free and paid options available. The paid version also includes many additional features beyond just chatbot functionality, such as third-party plugins or access to Advanced Data Analyst.
ChatGPT's younger sibling, based on the same models, though not as widely recognized as ChatGPT. One of its key advantages lies in its internet connectivity, allowing it to access and utilize up-to-date information for various tasks.
Google introduced Bard as an alternative to ChatGPT, and one of its notable features is its internet connectivity, similar to Bing. Additionally, it offers integration with Google applications, which can streamline tasks related to Calendar, Docs, Spreadsheets, and even Gmail.
This chatbot shares the same features as those mentioned earlier, except for the internet connection. However, it comes with the added advantage of being capable of processing a significantly larger amount of input information compared to its competitors. It can use manuals, reports, or books as a foundation, making it exceptionally proficient at summarizing, analyzing, or extracting key information. It's a valuable ally, especially for those working as data analysts.
AI tools for slide presentations
In this section, we will mention Wepik, Canva, and Tome as examples of how to create presentations within minutes. We also direct you to our article on creating presentations with AI, where you will discover numerous additional examples and user guides.
Wepik is an AI-powered tool for creating stunning designs. Developed by the Freepek image bank, it offers the distinct advantage of being completely free. With Wepik, you can create various types of corporate designs for your company, including logos, posters, business cards, and most importantly, presentations.
This AI tool enables you to swiftly and effortlessly create and customize presentations. Wepik's editor significantly simplifies the design process, allowing users to generate impressive slides with just a few clicks. Alongside expediting presentation creation, the Presentation Builder is designed to reduce the stress and effort associated with this task, making it an appealing choice for those seeking to streamline their workflow.
Canva requires no introduction; it's an essential tool for enhancing the productivity of both non-designers and designers alike. Canva's presentation feature is a robust AI-powered tool that simplifies the process of creating and delivering impactful slides.
It provides specialized templates for business presentations, the flexibility to adapt presentations to various requirements, and inspiration from professional designs. Furthermore, it encourages team collaboration and accessibility from mobile devices, while also adding dynamic animations and transitions. Canva offers a comprehensive solution for elevating the quality and effectiveness of your presentations in a straightforward and professional manner.
Tome is the ideal solution for creative individuals seeking to effortlessly shape and share their ideas. Leveraging Tome's AI capabilities, you can produce captivating content, craft professional-grade presentations, and design visually stunning landing pages. Tome's intelligent design interface empowers you to create with ease, thanks to its smart themes and responsive layouts. Its deep integrations also enable you to seamlessly incorporate interactive product mockups, prototypes, and web pages, offering viewers an immersive and engaging experience.
Artificial intelligence tools to optimize video
Video editing involves a highly creative aspect, but it also includes more laborious tasks such as filtering or removing elements from the footage. Artificial intelligence allows us to expedite those tasks, enabling us to concentrate on the more artistic aspects of editing.
This platform has been a pioneer in applying artificial intelligence to video editing almost since its inception. Among its many features, it offers video editing supported by a wide array of utilities that significantly streamline the workflow. From intelligent filters to automatic masks, as well as audio filters, Runway makes video editing a far less cumbersome task.
Descript aims to revolutionize video editing by enabling users to edit their videos in a manner similar to editing a text document. This is accomplished by automatically transcribing the video's audio into text and then granting users the ability to edit the transcribed text. When a section of text is edited or removed, the alterations are automatically applied to the corresponding video and audio, resulting in an intuitive and highly efficient video editing process.
Believe it or not, Adobe has integrated AI-based tools into Premiere, its flagship video editor, to enhance video editing. While their implementation has been somewhat slower compared to other platforms, you can already utilize utilities such as color matching and automatic noise and cut reduction to expedite time-consuming tasks.
AI-powered productivity tools for image generation
Often, especially if you lack design skills, creating images to complement your content can be a time-consuming task. Alternatively, you might have had to rely on stock image libraries, which carried the risk of using the same images as your competitors, along with associated expenses. Image generation tools offer a solution to mitigate these challenges. Let's explore the alternatives available for image generation:
OpenAI's image generator was the pioneer that paved the way for those that followed. Among its numerous uses, we can find: generating images from text, AI-based image editing, or extending image borders by expanding the content beyond the original canvas.
With the arrival of its latest version, DALL·E 3, its capabilities have been expanded to allow integration within chatbots like Bing Chat or ChatGPT.
This is likely the image creator that delivers the highest quality in terms of aesthetic appeal. It enables you to generate visual content in various formats, create variations of a design, begin with your own image to generate new ones, or blend multiple inputs to achieve a seamless fusion, among numerous other options.
Its applications span from creating images for article illustrations to crafting logos, encompassing the generation of icons and design mockups.
Stable Diffusion stands out as the quintessential open-source image generator—free and without restrictions. There are multiple ways to utilize it, but its most notable feature is its remarkable versatility, owing to a large community of developers supporting it.
It enables the creation of images in high formats and quality, making image editing a straightforward process. You can also use photographs or illustrations to generate variations. For instance, one of its applications includes creating alternative backgrounds for product photography using AI."
This is the most recent option we offer, but it comes with the advantage of being able to generate legible text in its creations. This feature opens up a wide range of additional possibilities to explore and benefit from.
AI tools to generate task automations
Automation stands out as one of the most effective methods to save time and enhance productivity. 
Yet, achieving your desired level of automation can sometimes be challenging. 
Fortunately, the use of artificial intelligence not only allows the integration of many of the applications discussed in this article but also enables the creation of assistants to streamline this process.
Zapier is a platform that facilitates integration among over 5,000 apps, streamlining workflow automation and enabling users to concentrate on crucial tasks. With the assistance of AI, Zapier can connect various apps and automate processes without the need for coding, thus saving time and alleviating the burden of routine tasks.
Bardeen is an AI-driven automation platform designed to eliminate repetitive and manual tasks. With integrations to over 30 popular applications, it enables users to establish automated workflows that enhance efficiency. Bardeen's AI capabilities streamline the automation of routine tasks, enabling users to concentrate on more creative and strategic endeavors.
AI transcription and summarization tools for meetings
In companies, meeting schedules are often packed, and some individuals move from one meeting to the next with little time for reflection or note-taking from the preceding one. 
Thanks to AI, this responsibility can be delegated to an assistant who, once more, will handle the bulk of the work by automatically transcribing and generating notes for us.
Otter is an AI-powered productivity tool specializing in converting audio to text, making it perfect for online meetings on platforms like Zoom, Microsoft Teams, or Google Meet. It provides live transcription, captures slide-sharing content, and automatically generates meeting notes and summaries. Additionally, it enables you to upload audio recordings for transcription, and it's known for its high level of accuracy.
Spinach simplifies the process of minute-taking during meetings, emphasizing decisions and actionable items. It seamlessly integrates into meetings by merely adding an email address to the calendar invitation. After the meeting, it sends a comprehensive summary directly to your inbox. Spinach utilizes AI to analyze meeting content and propose work tickets, facilitating improved project management and tracking.
Finally, let's discuss Whisper, OpenAI's audio-to-text transcription tool. While it may not be as refined or specialized as the previous options, its accuracy, speed, and the added benefit of being free make it a highly compelling choice. It's capable of handling large audio files, and once you have the transcribed text, you can further process it with your preferred assistant.
Artificial intelligence for business
An increasing number of studies consistently reaffirm a common finding: when effectively utilized, artificial intelligence boosts productivity and leads to cost savings for companies.
According to a study from Nielsen Norman group, up to 66% boost in employee productivity can be expected.
So, a specialized worker using AI in their area of expertise can complete the same task in significantly less time. This frees up more resources to be allocated towards more intricate or creative assignments, rather than repetitive or mechanical functions.
The tools we've explored in this article are just the beginning of what AI has to offer in the workplace. 
Each of these tools introduces a new and efficient way to address tasks that were previously tedious or time-consuming.
Whether it involves generating creative content, managing effective meetings, or automating workflows, AI is here to stay, making our work lives more manageable and productive. Early adoption of these technologies can not only enhance our efficiency but also position individuals and businesses more effectively in an increasingly digitized world.
The key is to explore, adapt, and leverage these AI tools to foster a more innovative and productive work environment. 
Ultimately, AI-based applications offer numerous advantages for optimizing various digital tasks in a matter of minutes.
Furthermore, not only will AI continue to increase digital productivity, but in the near future, hyper-automation of numerous tedious tasks will become the norm in many companies.
We eagerly anticipate expanding upon this article's tech stack with the best productivity-enhancing artificial intelligence tools in the coming months. 
In the meantime, please let us know if we've missed any deserving candidates for this list.
Frequently Asked Questions
Links and Additional Resources
Agency specialized in digital marketing engineering. Traffic acquisition, analysis and optimization of results.